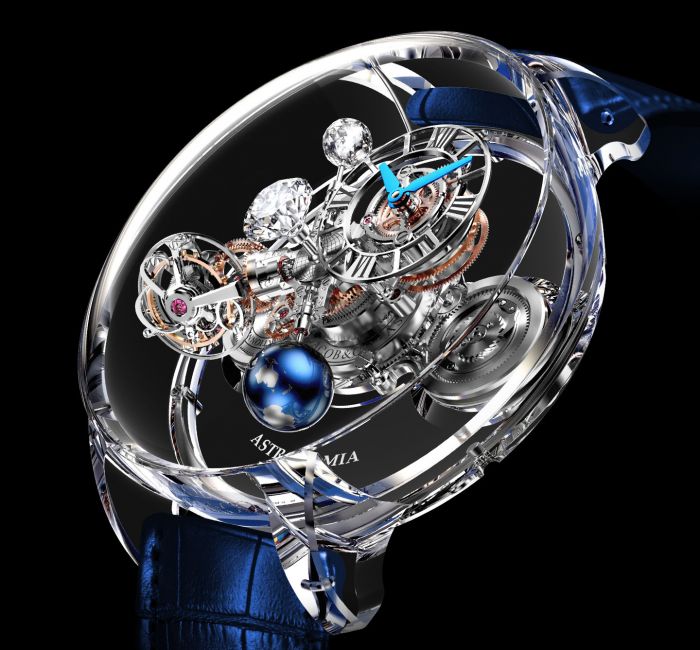 Story
Introduced in 2018, the Astronomia Flawless continues to impress with its multifaceted meaning behind the new Astronomia's name. "Flawless" not only refers to the watch's impeccable appearance, but it is also the term for the highest grade of diamond clarity according to the Gemological Institute of America's diamond grading scale. For a diamond to be declared flawless, no inclusions or blemishes should be visible under 10x magnification. Flawless is therefore a fitting benchmark for Jacob & Co.'s evolutionary interpretation of the Astronomia collection's signature sapphire case.
The Astronomia Flawless Diamond adds a spectacular 2.88 carat diamond on top of the amazing Astronomia movement.
The Astronomia is the epitome of 21st century ultra-high-end watchmaking and a globally recognized symbol of Jacob & Co.'s watchmaking expertise. A world-first both in the boldness of its unprecedented concept and its entirely mechanical construction, the Astronomia has gone beyond impressive horological achievements and has been regarded as an outstanding multidisciplinary engineering achievement.
The Astronomia Tourbillon represents the very essence of the Astronomia: it is a cinematic sculpture animated by its four-arm movement construction that rotates and floats through the sapphire-bound space inside its spectacular case. Full of unparalleled watchmaking solutions and adorned with exceptional finishing techniques, the Astronomia Tourbillon has earned its reputation as an inimitable icon in the field of haute horlogerie.